This Week: February 23, 2023
Editor – Barbara Halpern
Lead Writer – Richard Vaughn
Design/Layout and Writer – Travis Oliver
Guest Writers – Gisele Kahlon and Brynja Maravich
We know what the calendar says – the Dog Days of Winter – but recent temperatures argue otherwise, and even moreso does the sudden burst of activity in the streets. The folks are out!
Maybe this is all a pent-up release from Winter, or perhaps a pent-up release from the pandemic – likely both – but in any event, let's all join in and bring this town back to life.
(Life: Remember that?)
Safe, Equitable, and Sustainable Transit for Philly
The Vote:
At the request of the Bike Coalition, CCRA voted to add its name to the long list of community groups supporting the 2023 Better Mobility Platform.
The Platform:
As it has done in previous mayoral election years, the Bicycle Coalition of Greater Philadelphia has worked with nine other organizations interested in urban transit issues to put together a set of specific policy recommendations dealing with street safety and mobility for pedestrians, cyclists, mass transit users, and drivers of motor vehicles: Review the 2023 Better Mobility Platform here.
Participate:
Here are two ways for our members to do a public transit deeper dive, both on 3/31:
Attend the Vision Zero (no traffic deaths) Conference (9am -3:30pm), an all day symposium at Temple University, with the goal of making safe streets a reality for every Philadelphian. Register (sliding scale fee)

here

.



After the symposium, the

2023 Better Mobility Platform

will be the focus of a FREE Mayoral Candidate Forum that will be held at Temple University from 4 to 5 pm.

Register

here.
CCRA Public Zoning Committee Meeting
Tuesday, Feb 28, 2023 at 7 pm via Zoom
Zoom link here.
Read agenda here.
Nominating Committee Calls for Officer Nominees
CCRA is a non-profit, volunteer-led organization devoted to making Center City a better place to live, work and play. Our members volunteer thousands of man-hours each year to a wide range of projects that help preserve and improve the quality of life in Center City for the benefit of residents, local merchants and visitors.
On or about April 11, the CCRA Board will be electing its Officers (President, Exec. Vice President, up to five Vice Presidents, Secretary, Treasurer, Asst. Secretary, Asst. Treasurer) for the July 1, 2023 - June 30, 2025 term. While it is projected that virtually all of the existing Officers will be running for reelection, any current CCRA member who resides in "CCRAville" (the area bordered by north side of South St., west side of Broad St., south side of JFK Blvd., and the Schuylkill River) can run for election to an Officer position, provided that they are nominated by the CCRA Nominating Committee or an existing CCRA Director, and provided further that, with respect to the positions of President, Executive Vice President, and Vice President, the nominee has prior CCRA Board service.
The responsibilities of each of the Officer positions are described in the Bylaws, which can be viewed by going to the CCRA homepage and clicking on "About CCRA." If you are interested in running for an Officer position, please send an expression of interest in an email here with "Officer Candidate" in the subject line by no later than Wednesday, March 1. Be sure to include your full name, street address, email address, and phone number. (Note that in March, CCRA will begin soliciting for Director candidates, which candidates will be voted upon at CCRA's Annual Meeting, probably in May.)
CCRA MERCHANT PARTNER SPOTLIGHT
CCRA's Merchant Partner program is a true Win-Win: It provides local businesses with complimentary advertising and exposure while giving CCRA members generous deals and discounts. This week we spotlight the Rittenhouse framing emporium Frameworks Studio.
Frameworks Studio Brings the Art of Framing
Frameworks Studio at 21st & Walnut Sts., is not just another framing house. How so? Well, for one, the framers are artists themselves, complete with Fine Arts degrees. For another, there is an active on-site gallery which offers seasonal exhibitions featuring the works of local artists. And finally, as a CCRA Merchant Partner, FrameWorks offers CCRA members 10% off on all framing. So do please stop by at 21st & Walnut and say hello to FrameWorks!
For the Birds:
"Conversations With Birds" Exhibit Now Open
A new exhibit at Drexel's Academy of Natural Sciences brings a hyperlocal lens to our relationship with birds. Entitled "Conversations With Birds", it showcases wildlife photography and video, resources to watch and protect birds, interactive exhibits, and taxidermy. Details nest here.
And speaking of our fine-feathered friends, early reports indicate that the Lights Out Philly program to reduce the number of birds that die crashing into buildings in Philadelphia appears to be working. At a Market Street building that cut its light the most, bird collision deaths in the fall dropped around 70% since 2020. Details of the good news here.
It's Electric (Bikes, that is)
E-bikes have proliferated within the city, but also throughout the country, especially in our state parks and forests, You'll find e-bikes traversing areas previously reserved for pedalers, hikers and walkers. And so it is for PA as well.
Read PA's new e-bike policies here, and then read what the Philadelphia Bicycle Coalition believes would make them even better.
Has our DCNA (PA's Dept. of Conservation and Natural Resources) done a good enough job in making it safe and enjoyable for all (or even most nature lovers)? You tell us here!
Justice, Equity, Diversity, and Inclusion
Celebrate Black Musicians from Philly
Come to the Philadelphia City Institute Library for a free concert highlighting the contributions of Philadelphia composers to the rich and varied cultural tradition of Black American Music. The Renaissance Sextet, led by Leon Jordan Sr., will perform live, offer insights on the composers of the music you will hear, and host a brief Q&A after the performance.
With March Comes Women's History Month
March will soon be here, which among many other things means Women's History Month. There's a women's suffrage exhibit at the National Constitution Center, a Storyslam at the National Liberty Museum and a CultureFest at the Penn Museum. A guide to even more can be found here.
Community News and Events
Spark Joy at The Philadelphia Flower Show
Do you long for the feeling you get when receiving flowers? You can experience it all over again at The Philadelphia Flower Show, March 4-12. This year the show is back at the Convention Center and sparking joy with the theme 'Garden Electric.'
See the displays of world-class floral and landscape designers and be immersed in soundscapes, projections, and lights that enhance the natural beauty of the flowers. Find the flowery details here. To purchase tickets, visit here.
Vote Early, Vote Often: User Guide to the May Elections
May 16, 2023 is Election Day; what's on the line? The city's 100th mayor, the entire 17-member City Council, Controller's Office, City Commissioners, Sheriff, and Register of Wills. Voters will also choose nominees for a slate of municipal and statewide judges. Need help in sorting it out? Head here.
Don't Let Your Free Ride End
If you're like those of us of a certain age, one of your favorite cards to use is the SEPTA Key Senior Fare Card. There IS such a thing as a free lunch, thanks to the PA lottery, which subsidizes free public transportation for seniors. There's always a caveat, though. We were surprised to learn that these cards expire….I guess just in case we got younger!
Having suspended the need for renewals during Covid, now SEPTA Key Senior Fare Cards with printed expiration dates of 2020, 2021, 2022 and 2023 will expire on the last day of the month printed on the card (regardless of which year of expiration). So…this month, renewals are required for any card that expires(d?) in Feb., 2020-2023.
How to? Two suggestions:
Rep.

Ben Waxman's office

will process the application for you and take photos as needed for the card. Just walk in 10am-2pm weekdays. It will take only a few days to process and your card will be deactivated during the process.



Go In person to SEPTA Headquarters

for walk-in same day service. Appointments can be scheduled by calling 215-580-7145.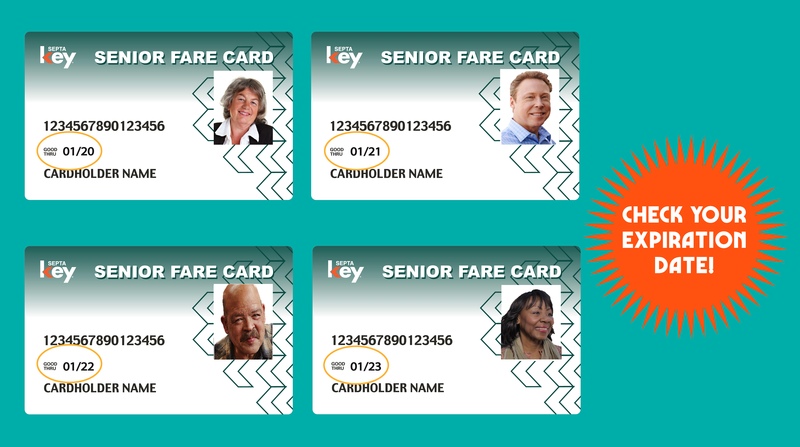 Next on the Runway: Philly Fashion Week
Calling all Fashionistas: Philly Fashion Week vamps into view March 2 and sashays its way around town through March 5. There's a student design competition, a networking mixer, two runway shows and, of course, afterparties. Details dished here.
Superfolie: The Newest Sophisticated
Hole-in-the-Wall Wine Bar
Superfolie (French for 'Fantastical' or 'Wild') is joining the collection of hip and new bars in Center City West. The bar is expected to debut March 3 at 1602 Spruce St., a former Plenty Cafe.
The neighborhood has been on an upswing of cool, new bars lately, with the opening of Andra Hem and the revival and relocation of Franklin Mortgage. Another, Vinyl Bar and Lounge, is under construction at 15th and Chancellor Streets, the former Applebee's. Read more here.
Merchant Partners "Deals and Discounts" Program
Would you please support our local merchants and save money too? These local merchants will provide a deal or discount to any member who shows a current CCRA membership card and personal identification.
William Schwartz Jewelry, 1831 Chestnut St (215-665-8115)
Alimentari Restaurant at Di Bruno Bros., 1730 Chestnut St, 2nd Floor
Astral Artists, 1500 Walnut St. (215-735-6999)
12th Street Catering, 3312 Spring Garden St (215-386-8595)
Blue Sole Shoes, 1805 Chestnut St (215-496-9244)
City Fitness, 2101 South St & 1819 JFK Blvd (609-254-9048)
Di Bruno Bros., 1730 Chestnut St (215-665-9220)
Dom's Shoe Repair, 203 S. 20th St (215-972-0098)
Excursions from the Square, (215-732-8487, 215-738-4500)
Eye Candy Vision, 218 S. 20th St (215-568-3937)
FrameWorks Studio & Gallery, 2103 Walnut St (215-567-6800)
Loews Hotel Philadelphia, 1200 Market St (215-627-1200)
Kimmel Cultural Campus, 300 S. Broad St (215-893-1900)
Liberty Pet Vets, 265 S. 20th St (888-458-8587)
PhotoLounge, 130 S.17th St (267-322-6651)
Rittenhouse Hardware, 2001 Pine St (215-735-6311)
Seafood Unlimited, 270 S. 20th St (215-732-3663)
The Bake Shop on 20th, 269 S. 20th St (215-644-9714)
The Philadelphia Orchestra, One S. Broad St (215-893-1955)
The River Boat Tours, Schuylkill River & Walnut St (215-309-5523)
The Rounds, internet only
Veda Modern Indian Bistro, 1920 Chestnut St (267-519-2001)

CCRA assumes no responsibility, and makes no representations or warranties, regarding any product and/or services sold by any Merchant Partner.